Wishart Lunch – 17 November 2004
Our third Wishart Lunch was again held at Restaurant Martin Wishart, in Leith on Wednesday 17th November 2004.  Some photographs from the occasion, taken by Scott Wishart, are reproduced below. Altogether we were 21 Wisharts for lunch at Restaurant Martin Wishart on 17th November 2004, the furthest travellers coming from London and the south of England. Martin Wishart again provided an excellent Michelin-star meal, menu as below, including wine from the Wishart Winery of Hawkes Bay, New Zealand – reserve merlot and chardonnay.
Jack Wishart proposed a toast to the memory of Scott Wishart, who set him off on his genealogical quest over 30 years ago – details here.
David Wishart gave a short talk on Wishart silver. His examples included a pair of late 18th century silver crested goblets from the family of William Thomas Wishart; an 18th century American coin spoon by Hugh Wishart of Wall Street, New York; and a pair of modern champagne flutes by Karen Wishart of Wellington and Edinburgh. David also brought along his book on Whisky Classified, all copies of which were quickly snapped up and signed.
George Wishart, who has recently moved from Edinburgh to Kirkcudbright, spoke on his research about the Wisharts of Kirkcudbright, concluding with a poem reproduced below.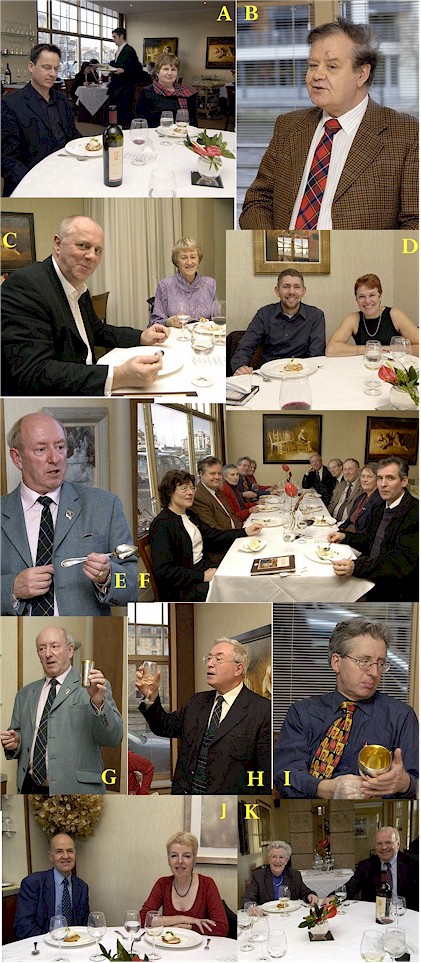 Key to photos
A: Neil Wishart (Cambridge) and Doreen Wishart (Edinburgh)
B: George Wishart (Kirkcudbright) speaking on George Wishart , Fisherman of Kirkcudbright
C: Tony Knight (Ripon) and Margaret Wishart (Fife)
D: Scott Wishart (London) and Susan Knight (Ripon)
E: David Wishart (Edinburgh) speaking about a silver Federal spoon made by Hugh Wishart of Wall Street, New York c. 1790
F: The main table of Wishart diners, with Barbara Wishart and Robin Wishart (foreground)
G: David Wishart presents a 20th century silver champagne flute by silversmith Karen Wishart of Wellington and Edinburgh
H: Jack Wishart (Edinburgh) toasts the memory of Scott Wishart who started him on his genealogical quest
I: Jimmy Wishart (Edinburgh) examines a crested silver goblet made for the Wisharts of Pittarrow, 1797
J: Mr and Mrs Andrew Wishart (Glasgow)
K: Alistair and Christina Wishart