Wishart Arms & Crest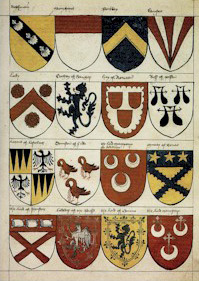 The arms of Wishart of Pitarrow date from mediaeval times. They were first recorded in The Scots Roll, a fifteenth century roll of arms, folio 50 recto, reproduced below. The title reads Weysart, interpreted as Wishart, and described as "Az. 3 piles in point Gu."
This appears as Folio 50 in The Scots Roll: A Study of a Fifteenth Century Roll of Arms by Colin Campbell, published in 1995 by the Heraldry Society of Scotland. Campbell states that Sir Anthony Wagner dated the Roll at c. 1490-1500. However, Campbell compares the titles to the dates of Scottish peerage creations and dates it to c. 1455-1458.
The Wishart Arms were later recorded with Lord Lyon by the Chief, up to 22 February 1769 by William Thomas Wishart, as follows:  Argent, three piles or passion nails, meeting in point, gules; supporters – two horses, argent, saddled and bridled, gules; crest – a demi-eagle, wings expanded, proper. Motto "mercy is my desire".  For more information about our emblem, the eagle, click here.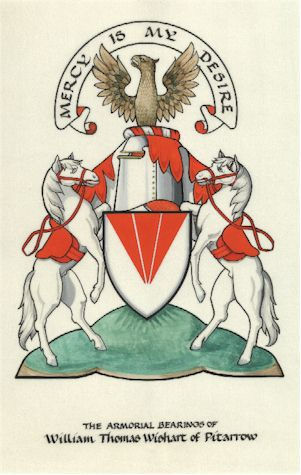 In 1992, the Wishart Society commissioned Lord Lyon's artist to draw the arms of William Thomas Wishart, as reproduced on the right.
It is important to appreciate that arms are personal to the head of the family, the person who recorded them with the Lord Lyon in Scotland. These arms were personal to William Thomas Wishart in 1769, and it is not permissable for anyone to adopt them.
Notwithstanding the above constraint, the arms are reproduced on an engraving of Admiral Sir James Wishart, MP held at the National Maritime Museum.
Another example of the arms of William Thomas Wishart has been published in "William Henry Wishard, A Doctor of the Old School", by Elizabeth Moreland Wishard, 1920, reproduced right. The two illustrations are identical in terms of their descriptive detail, differing only in their artistic interpretation.
Elizabeth Moreland's book can be accessed in full from the Internet Archive.
Because the Lyon Register only contains the written description of these arms, it is up to the artist as to how the description is interpreted. Which one do you prefer?You can, of course, download these images, but the quality is not as good as the originals.
Lord Lyon has given the Wishart Society, and hence all members of the Wishart family, written permission to adopt the Wishart Crest from the arms of William Thomas Wishart, who was the last-recorded head of the Wishart family.  The Wishart Crest is engraved on a pair of George III silver goblets, which were probably commissioned by the family of William Thomas Wishart in Edinburgh, 1800.
Members of the family can wear the Wishart Crest (left) which is taken from the arms of Wishart of Pitarrow.  It is a demi-eagle, wings expanded, proper with the motto "Mercy is my Desire".  More details are here.
You can obtain the Wishart Crest as a brooch, badge or plaque from the Wishart Society. To order, click here