Wishart Silver Goblets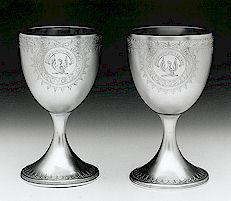 Our photo (right) shows a pair of George III silver goblets, dated 1797 and 1801 by Francis Howden, Edinburgh, engraved with the Wishart Crest, a demi-eagle below the family motto "Mercy Is My Desire". They were sold at Christie's, London on 29 June 1999..
Each goblet stands on a spreading foot with reeded border and engraved with a band of bright-cut engraving. The rim is decorated with further engraving, with a large circular cartouche containing the family crest and motto. They are sterling standard, King's head with the maker's mark under the foot.
We consider it most likely that these fine Georgian silver goblets were commissioned by or for William Thomas Wishart. He was the last chief of the Wisharts of Pitarrow to register arms with Lord Lyon, on 22 February 1769, and the elder son of William Wishart, Principal of Edinburgh University and Moderator of the Church of Scotland, and Margaret Haliburton. He was served heir to William Wishart on 30 March 1768 and, in the following month, married Anne, eldest daughter of George Balfour, Writer to the Signet.
William Thomas Wishart owned an estate at Foxhall, in the County of Linlithgow close to Edinburgh. He also acquired his father's estate at Carsebonny in Stirlingshire. He had 5 sons – William, George, Patrick, Archibald and John Henry. William was a major in the 15th Regiment of Foot, and died unmarried in 1805. George also died unmarried, prior to 1860. Patrick inherited the estates from William, and was a Writer to the Signet – some time later he sold the family estates. He married Margaret Robertson, but their three sons died without male issue. Archibald was a Writer to the Signet, and Keeper of the Sasines in Edinburgh. He died childless. John Henry practised as a surgeon in Edinburgh and married Louisa Wilson. Of their 3 sons, William died in India, James died in Scutari, and John (a labourer) died in Swan Hill, Victoria, Australia in 1878 . All three sons died childless, and hence there is no longer any chief of the Wishart family.
William Thomas Wishart died on 3rd December 1799. We consider that the silver goblets were most probably commissioned by his family, which was based in or near Edinburgh. The earlier goblet was made two years before the chief's death, and the second goblet was made two years after his death in 1801. At that date, his eldest son William Wishart was the only person entitled to register arms with Lord Lyon.
Although there were other Wisharts living in or near Edinburgh at the time, it is highly unlikely that they would have commissioned silver goblets engraved with the crest from the arms of William Thomas Wishart. As the crests are engraved simpliciter, that is without a circlet or the clansman's strap-and-buckle, this indicates that they would have belonged to the Chief.
In our opinion, the goblets provide the only physical link to the last Chief of the Wishart family in the 18th century. They are available for use at Wishart weddings and other suitable occasions, by special arrangement.