Jock Wishart (1951 – )
Wishart Tree WIS0020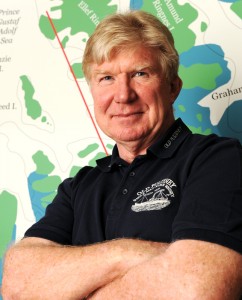 Born: 6 April 1951 – Dumfries, Scotland
He was educated at Dumfries Academy (Winner of Scottish Essay Prize) and at Bede College, University of Durham, where he graduated with an MA in Geography having been President of the Boat Club, the Union Society and the Athletic Union.
After university he was employed in Public Relations but obviously the Geography bug had bitten deeply and he was soon involved in his career as an adventurer and sportsman, with expeditions over land and sea which have made him a "weel kent face". In 1980 he sailed as a grinder on the Lionheart, the 1980 British challenger for the America's Cup.
In no special order, he has been Head of Public Relations Rugby World Cup 1991; set a Round Britain Record in a Power Boat; was a member of the Bid Committee for the London Commonwealth Games; has rowed the Atlantic; holds the Round the World Powered Record; was in the First unsupported walk to Geomagnetic North Pole; was first to "Row to a Pole"; he organised the "Polar Race"; was winner of World 12 Metre Sailing Championship and has traversed South Georgia for TV "In the Steps of Shackleton"
With crew on the Cable & Wireless Adventurer, they sailed from Gibraltar on 19 April 1998 on a 26,000-mile worldwide journey, encompassing 15 ports in 10 countries, and ultimately broke the powered world record previously held by the nuclear submarine USS Triton, by completing the circumnavigation in 74 days, 20 hours and 58 minutes.[5] This beat the previous record by more than seven days.
His expedition, The Old Pulteney Row To The Pole voyage, set out on July 28, 2011 from Resolute Bay, Nunavut, Canada, to travel 450 miles. At the,[2] Wishart described the timing of the successful expedition as being crucial because the final section of the journey is only navigable for a few weeks of the year before refreezing.
Jock is an avid environmentalist and lives in Surrey with his wife and family. His full name is John McKeand Wishart.
External Link: www.jockwishart.co.uk
CNN Interview: